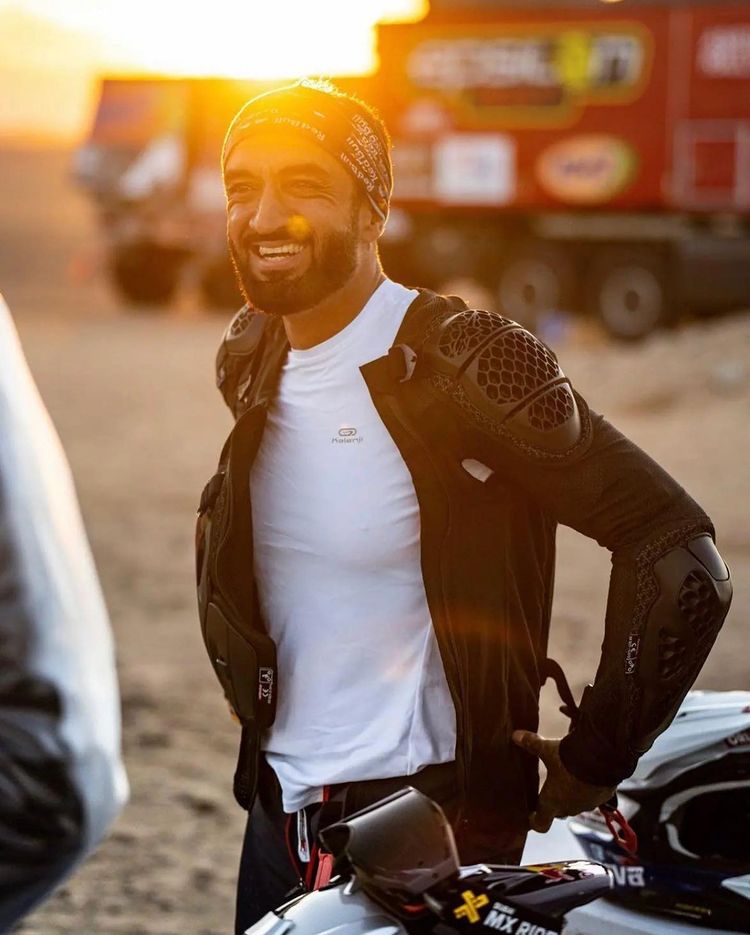 photo by: mch photography – mchphoto.cz
Mohammed Al Balooshi
Bio
Date of birth: 19 Sept 1979
Career start: 2009
Nationality: UAE
Disciplines: baja cross country rally
Titles and achievements
Dakar 35th
Dubai Endurocross 3rd
Qatar International Baja 7th
5×Arab Motocross Champion
Middle East Motocross Champion
About Mohammed Al Balooshi
Mohammed Al Balooshi is the multiple motocross champion and rally athlet ( Redbull Athlet, ) from Dubai / United Arab Emirates.
He participates on the FIM Cross Country World Championship as well on championships throughout the GCC. He finished the Dakar Rally 4 times since 2012.
Mohammed is the owner of the MX Academy Dubai MX Ride Dubai where he and his team of motocross professionals train clients from zero to hero.
Mohammed Al Balooshi is available for motocross coaching and consulting, marketing, TV / Film production and supervision of sports events worldwide.
2023
Abu Dhabi Desert Challenge ( DNF)
2022
1st Place Jordan Baja
Winner of Qatar Offroad Championship
3rd Place Baja Word Cup Series 2022
1st Place Rally Hail
1st Place Jordan Baja
Winner of Qatar Offroad Championship
2nd Qatar International Baja
37th Place Dakar Rally Finisher
1st Place Qatar International Baja
1st Place Baja Jordan
2nd Place Overall Dubai Endurocross Championship
3rd Place Dubai International Baja
1st Place Qatar International Baja
1st Place Baja Jordan
2nd Place Overall Dubai Endurocross Championship
3rd Place Dubai International Baja
1st Place UAE Baja Championship
1st Place Jordan Baja
1st Place Qassim Rally KSA
1st Place Mauritania Baja
1st Place Riyadh Rally KSA
1st Place Bahrain Motocross Championship
25th Place Dakar Rally Finisher
1st Place UAE Baja Championship
1st Place Jordan Baja
1st Place Qassim Rally KSA
1st Place Mauritania Baja
1st Place Riyadh Rally KSA
1st Place Bahrain Motocross Championship
25th Place Dakar Rally Finisher
Award: "Sportsman of the Year "by HH Sheikh Mohammed Bin Rashid Al Maktoum (the Vice-President and Prime Minister of the UAE and Ruler of Dubai)
3rd Place Emirates Desert Championship
1st Place Dubai Baja International Rally
1st Place FIM Baja Worldcup
32nd Place Dakar Rally Finisher
1st Place Emirates Desert Championchip
7th Place Overall: Abu Dhabi Desert Challenge Abu Dhabi, UAE
8th Place: Sealine Cross Country Rally Qatar
Bahrain MX Champion
Qatar Intl. Endurocross Champion ( E2 ) – QMMF
2nd Place – Emirates Desert Championchip
4th Place Overall: Abu Dhabi Desert Challenge Abu Dhabi, UAE
Bahrain MX Champion
2nd Place – Emirates Desert Championship
3rd Place: Pharaons Rally – Motorbikes
6th Place Overall: Abu Dhabi Desert Challenge Abu Dhabi, UAE
10th Place: Sealine Cross Country Rally Qatar
Dakar Rally Competitor
1st Place: Tunisia Arab Championship
Repeating the previous year's success
Middle East MX Champion
5 x Arab MX Champion
1st Place: Egypt Arab Championship
9 x UAE based titles
Award: Best UAE Motocross Rider
photos by: mch photography – mchphoto.cz