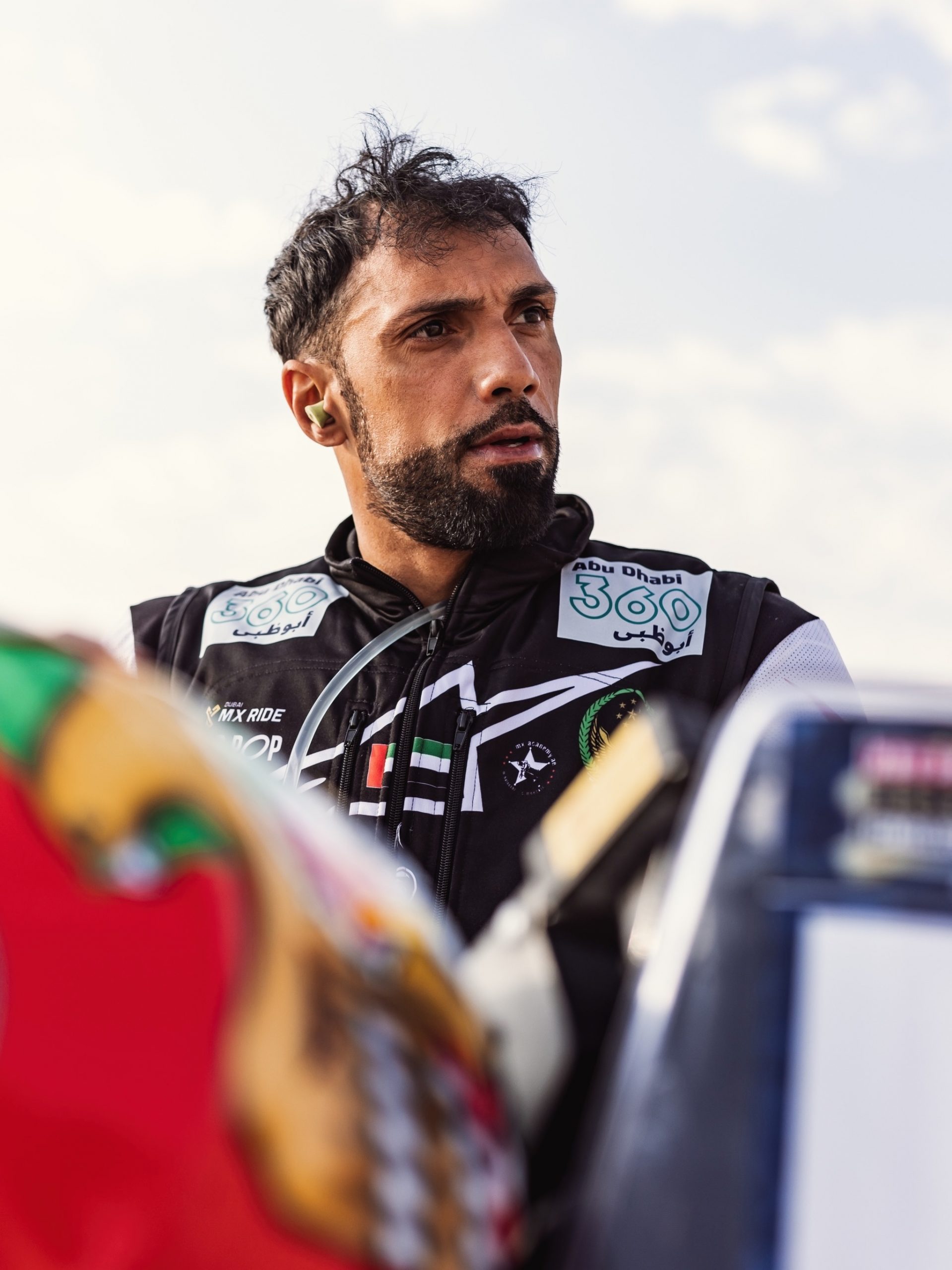 photo by: mch photography – mchphoto.cz
Sultan Al Balooshi
Since childhood, motocross has been Sultan Al Balooshi's way of life. With numerous Middle East races and global championships under his belt, he aims to conquer the 2024 Dakar Rally, Abu Dhabi Desert Challenge, and Motocross World Championships. With sponsorship, we can support him to reach his goals.
Bio
Date of birth: 01 Oct 1982
Career start: 2011
Nationality: UAE
Disciplines: baja cross country rally
Titles and achievements
2023 – Abu Dhabi Desert Challenge – 12st
2023 – Qatar International Baja – 4th
2023 –  Saudi Baja-Hail – 4th
2022 – Abu Dhabi Desert Challenge – 12st
2022 – Middle East Championship – 1st
2021 – UAE Desert Championship – 1st
2021 – Middle East Championship – 2nd
2021 – Qatar International Rally Championship – 2nd
Ever since I was young, I have had a passion for motocross. This sport has exceeded passion for me, and I consider it a way of life. In 2011, I embraced this passion and developed my skills and competitiveness with the help of my fellow rider, Mohammed Al Balooshi. I have participated in many motocross races all over the Middle East, before focusing on rally races. I have proven myself to be among the best competitors in the world in this sport, both in motocross championships and rally races.
Motocross is considered one of the toughest and most dangerous sports in the world. It requires the best physical and mental fitness, as well as a lot of hard work. Through the years on my motorcycles, I have learned the importance of sportsmanship and good values, and I never give up when faced with difficulties.
My current goals are to participate in the upcoming Dakar rally in 2024, the Abu Dhabi Desert Challenge and Motocross World Championships. My goal is not only to finish the races but to do everything I can to win them and raise my country's flag among the best in the world, with the help of my team and sponsors.
I would be honored to have your organization as a sponsor. Your support will not only benefit my goals, but it will also provide valuable exposure for your company.
2022
Abu Dhabi Desert Challenge - 12st
Middle East Championship - 1st
2021
UAE Desert Championship - 1st
Middle East Championship - 2nd
Qatar International Rally Championship - 2nd
Abu Dhabi Desert Challenge – 12st
Middle East Championship – 1st
UAE Desert Championship – 1st
Middle East Championship – 2nd
Qatar International Rally Championship – 2nd
2019 Hail International Championship in Saudi Arabia -1st
Liwa Championship – 1st
2020 Hail International Championship in Saudi Arabia – 2nd
Riyadh International Championship – 2nd
UAE Desert Baha Championship – 1st
2018 Bajas World Cup – 10th
Hail International Championship in Saudi Arabia – 1st
2019 Bajas World Cup – 3rd
World Championships in Jordan – 3rd
UAE Desert Championship – 3rd
Middle East Championship in Lebanon – 2nd
Qatar International Championship – 3rd
2016 Bahrain International Championship – 2nd
2017 Bahrain International Championship – 2nd
UAE Desert Championship – 3rd
Kuwait International Championship – 2nd
Arab Championship in the UAE – 3rd
Morocco International Championship – 3rd
Qatar International Championship – 3rd
Kuwait International Championship – 1st
Arab Championship in Qatar – 3rd
Bahrain International Championship – 2nd
photos by: mch photography – mchphoto.cz